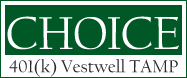 &nbsp
The 401(k) Choice Platform is a partnership between Vestwell and Kovack that provides a turnkey 401(k) platform for Kovack advisors to begin offering defined contribution solutions or convert existing plans.
The ideal candidate for the 401(k) Choice Platform are plans between $500k and $1M.
This product is ideal for:
1. Your wealth clients who need a retirement solution (allowing you to keep the assets in-house.)
2. Your current 401(k), 403(b) and 457 clients who want a fiduciary product that allows them to have transparent fees and online account management and enrollment.
3. Small - medium sized businesses not offering 401(k) solutions
4. Small - medium sized businesses currently offering 401(k) solutions and worried about the Fiduciary Rule
---
Copyright ©2017 Kovack Advisors, Inc.,
6451 North Federal Highway, Suite 1201
Fort Lauderdale, Florida 33308
Call us at (954) 670-0617
Email: info@kovackadvisors.com