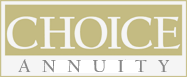 &nbsp
A Choice Annuity Account is designed to use with an investor's existing Variable Annuity (VA) investments. This prpgram helps manage and control risk through the active management of your VA investments.
A VA is a contract between you and an insurance company, under which the insurer agrees to make periodic payments to you either at the onset of the portfolio or at some future date. The structure of a VA is such that the investor carries the risks and rewards associated with the underlying investments, which may include stocks, bonds, and money market instruments.
Accounts are actively managed by your investment advisor representative.
Minimum account size is $50,000.
Clients will receive regular monthly statements from the annuity company and quarterly performance reports from Kovack Advisors, Inc.
Annual fee (billed quarterly in advance) is all-inclusive; covering all portfolio management services, billing, performance reporting and ongoing portfolio monitoring.
---
Copyright ©2017 Kovack Advisors, Inc.,
6451 North Federal Highway, Suite 1201
Fort Lauderdale, Florida 33308
Call us at (954) 670-0617
Email: info@kovackadvisors.com